Wood-Look Tile in Sherman Oaks That's Rich in Character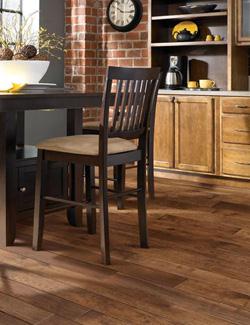 Revitalize your interior décor with the look of natural wood. You can do this easily by choosing our wood-look tile in Sherman Oaks. We invite you to come into flooring showroom at Fashion Carpets to see our stunning selection of ceramic or porcelain wood tile.
Hardwood is a coveted flooring option that adds beauty and value to your home. However, with our wood-grain tile, you can have all of the splendor of wood, but at a lesser price and with little maintenance. Ask our sales and design professionals to show you samples so you can experience wood-plank tile for yourself
Installing Tile, yet Decorating as If with Wood
More and more of our customers are opting for the appeal of wood-look tile. Using the newest technology, our manufacturers turn out tile with all of the variegated beauty of hardwood, including that knotty and grainy look. In our showroom, we offer you a wonderful selection of wood-grain tile that is rectangular, rather than square -- just like hardwood plank.
Why Choose Wood-Grain Tile?
Our wood-plank tile has all the charm of wood and a host of other benefits that will make you happy you made this choice. Count on our tile for:
Installation Versatility -- You can use tile in any room of your house. There are no restrictions due to running water or high humidity. With our tile, you can have the look of wood in the bathroom, kitchen, or basement.
High-Performance -- Tile is a flooring option that embodies toughness. It resists stains, wear and tear, and scratches, as well as heat and frost, so it's strong and durable, lasting for years and years.
Easy Cleaning & Maintenance -- Dry and wet mop your tile floors when necessary. This flooring doesn't require a lot of time and attention to look its best.
Professional Installation for Wood-Plank Tile
We recommend you seek professional installation for your tile floors. It takes a great deal of precision and patience to install this flooring properly. Even though this tile looks like wood, it is installed like tile -- piece by piece. This includes placing the tiles on a bed of mortar and grouting them after they have all been placed. Let us send installation technicians to your home to make sure your wood-grain tile maintains its beauty for many years to come.

Contact us today to help you select wood-look tile for your kitchen. We proudly serve customers located throughout Sherman Oaks, Studio City, Valley Village, North Hollywood, and Hollywood, California, plus the surrounding areas.