Vinyl Flooring in Sherman Oaks, CA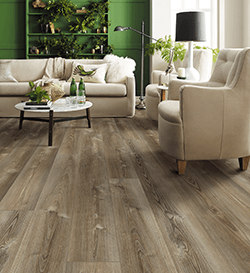 Decorate more of your home within your existing design plan when you start your next project at Fashion Carpets. Our team will review your plan and ask you the critical questions about your existing décor. When you need vivid colors and a greater level of support underfoot, there is no better choice than our broad array of vinyl flooring in Sherman Oaks. CA.
Vinyl is easier to clean, which can save you time and money. When you are decorating a home or business that expects heavy foot traffic or a host of scampering pets, you need a proven solution that is both resilient and attractive. We want you to make our flooring store your source for value-added vinyl and other products from some of the nation's leading manufacturers. Building a relationship with the customer begins with supportive design assistance.
We will help you make sense of all the choices through our 5-Star Selection System. Each flooring product is rated according to the price protection guarantees and installation warranties that are included. You can choose a floor covering that gives you a look you want and the performance you deserve. Our comprehensive approach connects the design process to the installation team, ensuring your flooring fits the room as well as your way of life.
Engaging Vinyl Tile Flooring
Find the flooring that matches your décor and get a surface that is resistant to both scratches and stains. When you decide to remodel an existing residence, you may find the subfloor has a number of irregularities that could slow down the momentum of your project. Both vinyl sheet flooring and tile conforms to subfloors of all kind. You won't have to waste time repairing that floor before you proceed with the decoration of the house.
We take the time to learn as much about your needs as possible so that the flooring you get does the job that you intend. Many need specialized vinyl plank flooring to fit around subfloor issues. Planks are also a great way to reduce the ambient noise in a room.
Efficient Vinyl Flooring Installation
Commercial and residential customers have come to depend on our approach to flooring installation. Our contractors understand the challenges a homeowner faces. They arrive promptly and prepared to install vinyl in the kitchen and hardwood flooring in the den. When the project is completed, you will have an interior that makes life more enjoyable.

Contact us today to purchase vinyl flooring that makes any ordinary room extraordinary. We proudly serve customers in Sherman Oaks, Studio City, Valley Village, North Hollywood, Hollywood, California, and surrounding communities.