Tile Flooring in Sherman Oaks, CA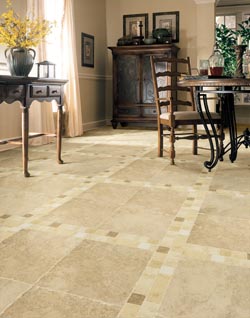 Broaden the reach of your design ideas when you shop at our local leader for tile flooring in Sherman Oaks, CA. Finding the right color and texture of tile for each room can prove complicated when you have so many options at your fingertips. Fashion Carpets carries a full line of ceramic and porcelain flooring products that can be matched to your existing décor.
You can do so much more than cover your floors with our focused design assistance. We ask the important questions about your outlook on design, and your lifestyle as well. Our selection of tile can transform a commercial establishment into a destination for the entire community. When you need the warmth of hardwood in places with excessive moisture, there is no better choice than our wood look tile.
Start a conversation about your next commercial or residential remodeling project with a team that supports you at every step of the way. We make it easy to create an original interior that others will envy through the design and installation process. Collaborate with our team and identify the flooring and tile you need to decorate your walls and so much more. Dazzle your guests and enhance the value of your home with a smart investment in traditional tile.
The Versatility of Ceramic Tile
Ceramic flooring tiles are crafted with a specialized blend of natural clays. The specific density of this flooring tile makes it easier to cut into a variety of shapes. In the hands of a proven installation contractor, our tile can become the foundation for years of family fun. Say goodbye to the faded flooring you've been living with for years and say hello to a natural floor that is easy to clean.
Resilient Porcelain Tile
Walls and outdoor walkways require a denser type of tile to resist moisture and spills. Both ceramic and porcelain tile are crafted from the firing of specialized clays, but porcelain features a consistent color throughout the tile. Any chip or scratch will be less noticeable, which makes this flooring product a great fit for families with kids.
Talk to our design specialists about your ideas for your floors and beyond. With the right combination of flooring and mosaic tile, any ordinary room is sure to become something extraordinary. From the moment you walk through our doors to the point your tile installation project is done, you are in control of the process.

Contact us to schedule a design consultation, and start a discussion about your need for tile flooring. We proudly serve customers in Sherman Oaks, Studio City, Valley Village, North Hollywood, Hollywood, California, and surrounding communities.