Laminate Flooring in Sherman Oaks, CA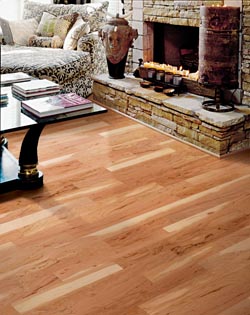 Restore the value and appeal of your home with our selection of laminate flooring. We make it easy and affordable to get the look you have always wanted with the selection we offer at our expansive flooring showroom. We offer a broad selection of laminates that are both visually appealing and highly functional. Laminate floors offer the durability and multidimensional textures you want to elevate the elegance of your residential haven.
Visit with one of our design specialists and find the perfect type of laminate flooring for your home or business. If you are renovating your family room, our laminate wood flooring provides a high-end look of warmth and character at a cost-effective price. Choose from our laminate tile flooring collections to ensure you have the style that meets your aesthetic preferences and budget.
Our focus on your complete satisfaction means we are with you at every step toward buying new floors—from selection to installation. From the time you walk through our doors until our laminate flooring installation team is finished, you are our priority. Come in and shop our inventory and you will discover how we can make a positive difference in your interior design project.
The High-End Look of Laminate Wood Flooring
Make a statement about your personal level of style and substance by choosing from our selection of laminate wood flooring. When you need an innovative and resilient surface that also provides the high-end look of the hardwood floors you covet, this flooring is the answer.
Traditional hardwoods may not be appropriate for every room in your home. This affordable flooring alternative gives you the look you want and won't expand and contract with changes in temperature. With this freedom you are able to get a better fit in rooms like kitchens and basements.
The Creative Appeal of Laminate Tile Flooring
Create an original look and feel with laminate tile flooring that mimics the real deal. This style of flooring is easy to cut and install, and that provides you with more value when it comes to a limited budget. In addition, it is easy to clean, durable, and easy to un-install should you decide to change the flooring in the future. With these stylish floors, your bathrooms and kitchen can come alive with a dazzling array of colors and textures. The only limit to your design possibilities is your imagination.
Simplify Your Life with Laminate Floors
Save yourself time and money when you install our laminate floors in your home. With unmatched ease of maintenance and a variety of colors and textures to choose from, there is no better value for your home improvement dollar than our laminate floors.
Spend your days enjoying time with the family, and stop spending hours at a time scrubbing your floors. With cleaner floors, your family will breathe easier and live healthier.
Laminate Flooring Installation Makes a Difference
Protect the investment you have made in your home by taking advantage of our professional laminate flooring installation process. The quality of your flooring installation is as important as the quality of the floors you buy. You save more money in the long run when you get the best fit for your flooring.
With the right tools and countless hours of experience, you are sure to get a fit that stands the test of time. Avoid the possibility of unnecessary repair costs down the road with the help of our laminate flooring installation team. With competitive pricing and flexible scheduling, there has never been a better time than now to get the new flooring you have always wanted.

Contact us today for a free estimate and get a better picture of how laminate flooring can improve your home. We proudly serve customers in Sherman Oaks, California, and surrounding communities.