Engineered Hardwood Flooring in Sherman Oaks, CA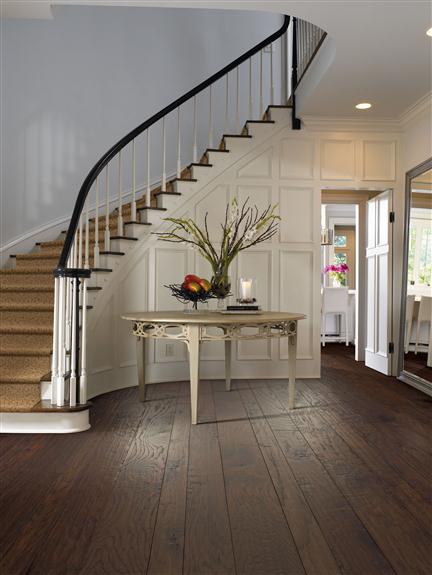 If you're considering new hardwood flooring, be sure to consider the many advantages our engineered hardwood flooring has to offer. Engineered hardwood is real wood, but is processed in a way that makes it less likely than solid wood to be affected by changes in moisture and temperature. Because of this, it's a good choice for areas of humidity or heat, such as kitchens, bathrooms, or basements.
The top coat on our engineered wood floors is pressure treated, making it super strong and durable. It's easy to install and maintain. Stability is high with this flooring, so buckling and rippling are less of a problem. While both solid planks and engineered planks create a warm, inviting floor and add value to your home, there are definitely advantages to engineered hardwood.


Engineered Hardwood Installation Experts
Engineered hardwood can be installed several different ways. This innovative flooring option is manufactured with tongue and groove installation. Our skilled and experienced technicians install it with nails or glue, or as a "floating" floor that doesn't need nails or glue to stay solidly in place. Because of this feature, engineered hardwood can be installed over a wide variety of surfaces, including concrete, making it a good choice for basements or concrete subfloors.
Choose our team of installers who are experts in engineered hardwood installation. We will select the installation method that is right for your project and we are determined to complete each installation perfectly. We are so sure that you will have a great installation experience that if you have any problems with installation, we will make it right and you won't pay a cent—it's on us.


Are Engineered Wood Floors Right For You?
Our engineered floors are made of several layers of wood placed perpendicular to each other. They are treated with extreme heat and pressure, resulting in a floor that is extremely durable, long lasting, and relatively unaffected by moisture and temperature. They can be installed over almost any sub-floor type. If you're looking for the durability and the rich look and feel of real wood floors, coupled with flexible installation options, engineered wood floors are your answer.


Come See Our Vast Selection of Engineered Wood Flooring
Our design showroom is filled with a vast selection of stunning engineered wood planks. You are sure to find just the color and style to complement your home. We also carry some of the best brands in the business, including Armstrong™, Mohawk™, Johnson™, Royal Oak™, Silver Oak,™ and Reward™. Our design consultants are ready to answer your questions and help you find the perfect floor.
You can be confident that you will be happy with your new floor. You won't find better guarantees anywhere in the industry. If you find a lower price on the same product within 30 days, we will refund the difference. And if for any reason you are unhappy with your floor after 30 days, we will replace it for free. Even the labor is on us. We want to be your go-to place for engineered wood floors.



Contact our showroom today to see our extensive collection of stunning engineered wood floors. We are proud to serve customers in Sherman Oaks, Studio City, Valley Village, North Hollywood, and Hollywood, California.